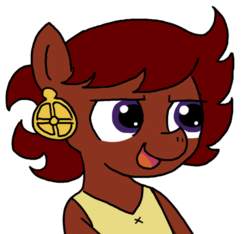 An Earth Pony reverse trap. She is a based on one of the unused starting characters.
An orphan native to Whitherwater she is befriended by Emerald and starts traveling with him as Joyride's errand-boy.
Her earring is assumed to bear a significance similar to Emerald's necklace. It is missing it's jewel, but briefly gained one when the players gained control of her during a flashback, it is blue in contrast to the red jewel Emerald possesses.
Skills and talents
Ruby has shown skill in pickpocketing, and can best Emerald in a knife fight, but otherwise has not shown a great range of skills. She can cook fairly well and is being taught to read.
Attribute Points


Body
Dexterity
Perception
Intelligence
Willpower

4
5
3
1
2
Role in the story
Relationships
Emerald Jewel, Ruby's friend and traveling companion.
Joyride is her current caretaker.